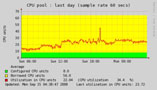 LPAR2RRD generates historical, future trends and nearly "real-time" CPU utilization graphs of LPAR's and shared CPU usage of IBM Power Systems™ servers.
It is agent less (it gets everything from the HMC/SDMC/FSM or IVM).
It supports all kinds of logical partitions: AIX®, IBM i® (i5/OS®), Linux®, VIOS.
It collects complete physical and logical configuration of all servers and LPAR's.
This program is free software. You can redistribute it and/or modify it under the terms of the GNU General Public License.
For customers under support there is distributed a full version with additional benefits.





Announcements in brief
Why use LPAR2RRD?
1st of all due to its unique web based GUI for graphical interpretation of physical CPU utilization in virtualized environment. You can on a click find total CPU utilization of any physical box in a simple graphical form understandable from technician to management level
it is free for use, you do not need to invest into expensive commercial solutions. You can optionally buy support.
it is agent less == there is no any administration need if there is ANY change in your virtual environment
it does not require ANY administration, you just put there SDMC/HMC/IVM/FLEX names, allow ssh access there and that's it!
in comparsion to other commercial tools where you need to have dedicated and trained staff for administration of them
you can on a click export internally stored data in CVS format for further analysis via 3rd party tools
for more details check Features section below
How it works
it is able to graph Active Memory Sharing usage
CPU Workload Estimator brings possibility to estimate before any LPAR migration if the target HW handles CPU load of migrated LPAR(s)
It has option to make estimations and graphs based on rPerf or CPW benchmarks rather than on CPU cores. This allows you to get realistic view when you migrate a LPAR between different IBM Power™ servers.
You are allowed to group LPARs or CPU pools from different servers into Custom Groups what gives you easy overview of CPU load per the OS clusters, aplication layers etc ...
It is able to raise an alerts if CPU exceeds defined threshold for a LPAR or CPU pool
Live Partition Mobility and generally LPAR migration support
it is able to graph CPU usage prediction 1 year ahead yearly trend graphs
it is no longer only an off-line tool. You can do refresh (via a WEB link) whenever you want to get nearly "real-time" graphs
agent-less, no agents need to be installed on LPAR's. It gets all data from HMC/SDMC/IVM/FLEX servers
support of all types of LPAR's and OS'es : AIX®, VIOS, IBM i® (i5/OS®), Linux® on IBM Power™ Systems
it graphs LAN traffic of all IVE/HEA adapters and SAN traffic (available only for IVM based servers)
simple to install, configure and use
initial install & configuration together with dependency tools should not take more than an hour!
no additional management required when you change/add/remove/rename a LPAR or managed system/frame (the tool discovers everything automatically for all already configured HMC/SDMC/IVM/FLEX)
data CSV outputs for processing by other tools, include output of server's configuration
it can be hosted on any *NIX platform, it needs a web server, SSH, Perl and RRDTool installed.
This is not replacement of tools like IBM Tivoli, Ganglia or Nagios which monitor everything in deep detail. The product is monitoring only key performance mertrics and graphs them.
It should act as the front-end tool which easy identifies load abnormality and locates it up to the LPAR level. For further deeper analysis is necessary to use AIX® OS tools like NMON analyser, perfPMR, topas, trace ...
Next major areas we are going to focus are:
Red Hat KVM, QEMU and Xen support is already under development
VMware support is already under development
New alerting solution:

GUI based configuration
many new alerting options
OS agent data used for alerting

Custom Groups graphs based on rPerf or CPW benchmarks
OS agent data export into CSV