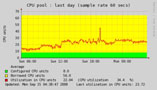 LPAR2RRD captures performance data and generates actual, historical and future trends utilization graphs of your virtual environment.
It is agent-less (it gets everything from the management stations like vCenter or HMC).
The product supports
IBM Power Systems™
and
VMware
virtualization platforms.
This program is free software. You can redistribute it and/or modify it under the terms of the GNU General Public License.
For customers under support there is distributed a full version with additional benefits.





Announcements in brief
Why use LPAR2RRD?
1st of all due to its unique web based GUI for graphical interpretation of performance utilization in virtualized environment. You can on a click find performance utilization of any physical box in a simple graphical form understandable from technician to management level
It is free for use. You do not need to invest into expensive commercial solutions. You can optionally buy support.
It does not require ANY administration in comparsion to other commercial tools where you need to have dedicated and trained staff for administration of them
Our mission
We bring on the market easy solution for performance and capacity planning of your highly virtualized environment with simple and easy understandble GUI. We do not provide you thousands of performance metrics like complex tools from other vendors where most of them are never used. Our tool should act as the
front-end
tool which easy identifies load abnormality and locates problems on the infrastructore level.
How it works: IBM Power Systems
How it works: VMware