IBM Power Systems Performance Monitoring
Tool gets data from the HMC CLI and might be supplemented by
OS agent
metrics.
You can see all features in
demo
site which already contains HMC REST API collected data.
HMC REST API data collection will be released in v
6.00
.
Monitoring resources
CPU pool
Shared Processor Pools
LPAR
Physical interfaces
HMC

WPAR (Workload Partition)
Monitoring metrics
CPU performance (CPU cores)
Memory usage (allocation, usage, page in/out)
Eth/FCS/SR-IOV/SAS/IVE adapter performance (MB/sec, IO per sec, latency in ms) v6.00
Other features
Custom Groups grouping of utilization from LPARs or CPU Pools in single graph
Graph zooming
Configuration
Trends
Complete list of product
features
HMC CLI data gathering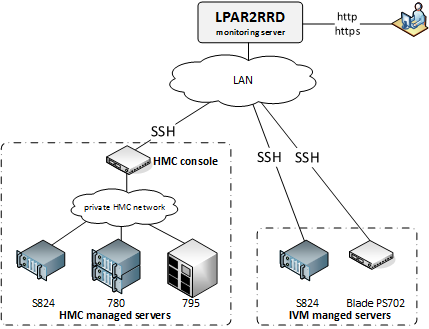 OS agent data gathering
Feel free to comment our implementation or discuss it on our
web forum
.