LPAR2RRD is able to monitor stand-alone MS Windows servers and MS Hyper-V performance metrics.
Implementation is done through
single Windows OS agent
running on any Windows host in the Windows domain.
This OS agent gets all required configuration from the AD and performance data of monitored hosts through WMI.
It passes such data to LPAR2RRD server where data is saved and presented.
LPAR2RRD Windows OS agent works everywhere where is available PowerShell 3 and higher
It does not directly depends on Windows version, if you are able to upgrade PowerShell to 3.0+ on older machines then it will work.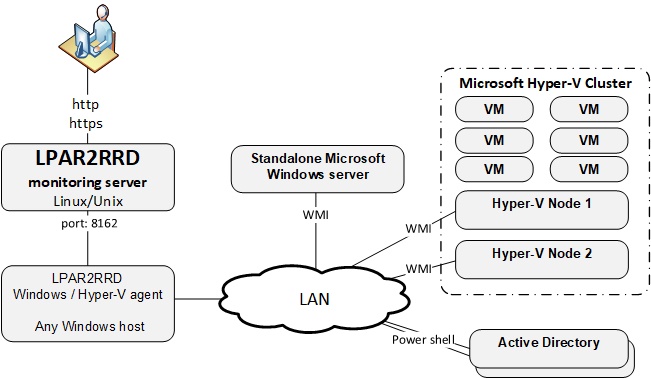 Installation summary
Allow TCP connection initiated from Windows LPAR2RRD Hyper-V agent server to LPAR2RRD server on port 8162
PowerShell version 3 and higher only is supported on Windows hosts
User creation
Create LPAR2RRD user in the AD with membership in these groups:

Event Log Readers
Hyper-V Administrators
Performance Log Users
Performance Monitor Users

This must be done for all Hyper-V nodes and MS Windows servers that are supposed to be monitored (this can be set globally in AD).


Set rights in GPO and AD using this manual


Give local admin rights to the LPAR2RRD user on the Win server where LPAR2RRD Hyper-V agent will be running.
Add him into Domain Users group.


OS agent installation

Unzip LPAR2RRD-Win-agent-1.3.3.zip
Unblock these files by right clicking them and checking "Unblock"
Setup.vbs, Configuration.vbs, LPAR2RRD-agent.ps1
LPAR2RRD-agent-Configuration.ps1, LPAR2RRD-agent-Installer.ps1


Run Setup.vbs

Select installation directory


Put hostname of the LPAR2RRD server


Test connection to the LPAR2RRD server


Put user which will run LPAR2RRD OS aget on this machine


Select monitored mode (agent v1.3.3+)

You can also use manuall OS agent installation
In case of a cluster: add there cluster name and names of all nodes as well like: cluster1,node1,node2,cluster2,node...

Wait about 30 minutes, then Ctrl-F5 in your LPAR2RRD UI and you should see Hyper-V folder in the main menu
Monitored modes
The agent can run in these modes:
leave it in default mode and monitor just the server where it is installed
monitor all visible servers from AD
monitor only specific servers (recommended), added into cfg file
for monitoring of cluster - add its name to servers/nodes too like: cluster1,node1,node2,cluster2,node...
Mode configuration is selected during installation or run whenever
Configuration.vbs
in the agent install dir.
Win OS agent
release notes
Troubleshooting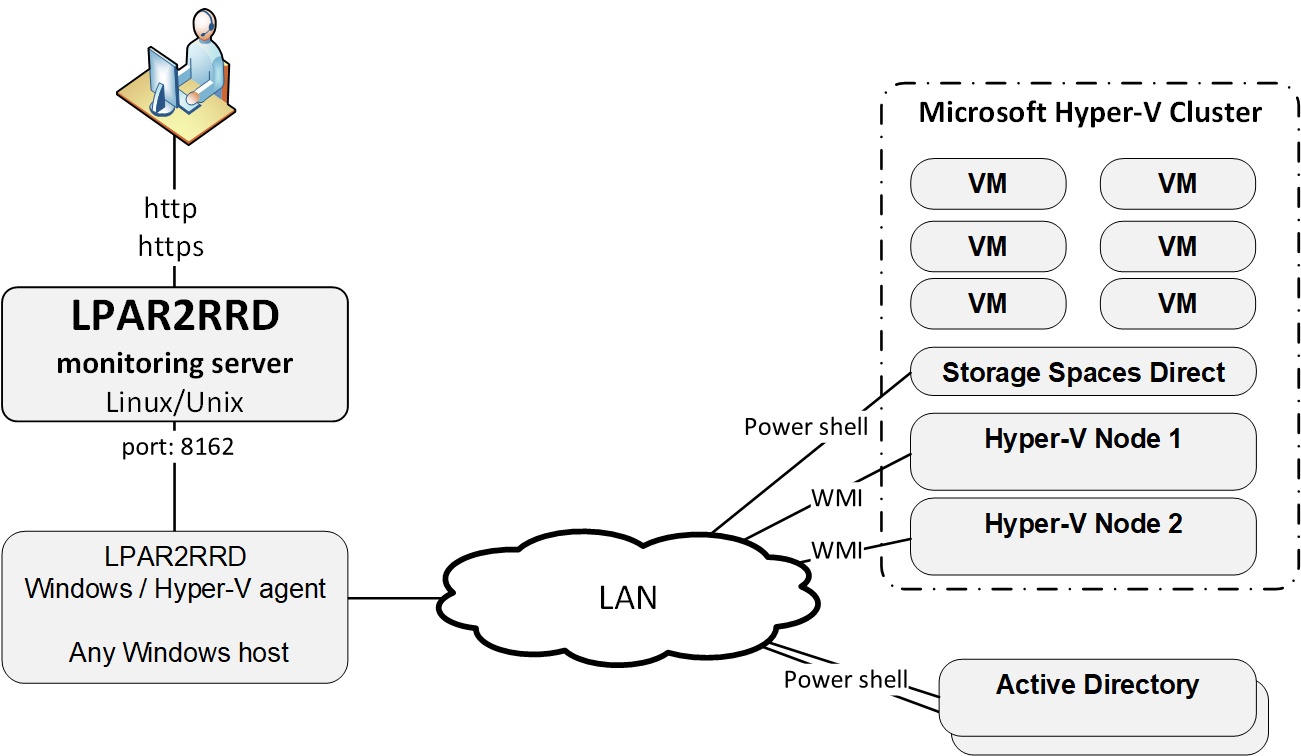 S2D prerequisites
WinServer 2019
Performance history enabled (enabled by default) docs.microsoft.com/en-us/windows-server/storage/storage-spaces/performance-history
In case LPAR2RRD OS agent detects Storage Spaces Direct enabled in cluster it also collects additional data from Performance History once per hour in 5 minute samples.
Just install the latest Windows OS agent and upgrade to LPART2RRD 7.30+ to get S2D statistics.