PDF reporting
Version
4.95
brings possibility to create PDF report directly from the tool.
Generate historical report and on the top right corner click on the PDF icon which converts all graphs into 1 PDF file.
Check IBM Power

, VMware

, Custom group

examples or try it on our demo site
Prerequisites
If you are on
Virtual Appliance
1.24+ then just use it, nothing is required, everything is already installed.
In any other case you will have to install a Perl module to make it work.
You will be prompted for its install when you click on the PDF report.
Installation of PDF prerequisites
Format configuration
It uses A4 format as default. If you wish to change format to "letter" usually used in the US then change parametr PDF_PAGE_SIZE in lpar2rrd.cfg

$ cd /home/lpar2rrd/lpar2rrd
$ vi etc/lpar2rrd.cfg
  PDF_PAGE_SIZE=Letter

PDF reporting in older versions
There are plenty of PDF writing software and online conversion services around that can help you save web pages as PDF files.
Note that when you print any data from LPAR2RRD then
menu and header are not printed
.
Chrome PDF converter
Chrome web browser allows direct pdf conversion.
You neither have to install any software on your computer nor any extensions in your browser because Google Chrome itself acts as the PDF writer.
Open any web page inside Google Chrome, press Ctrl+P (or Cmd+P if you are on a Mac) to open the Print dialog
If the page does not fit the screen then roll on the bottom to let load of all images
Change the destination printer to Save as PDF
Select "Background graphic"
Hit the Print button and the current web page will instantly download as a PDF document. Simple!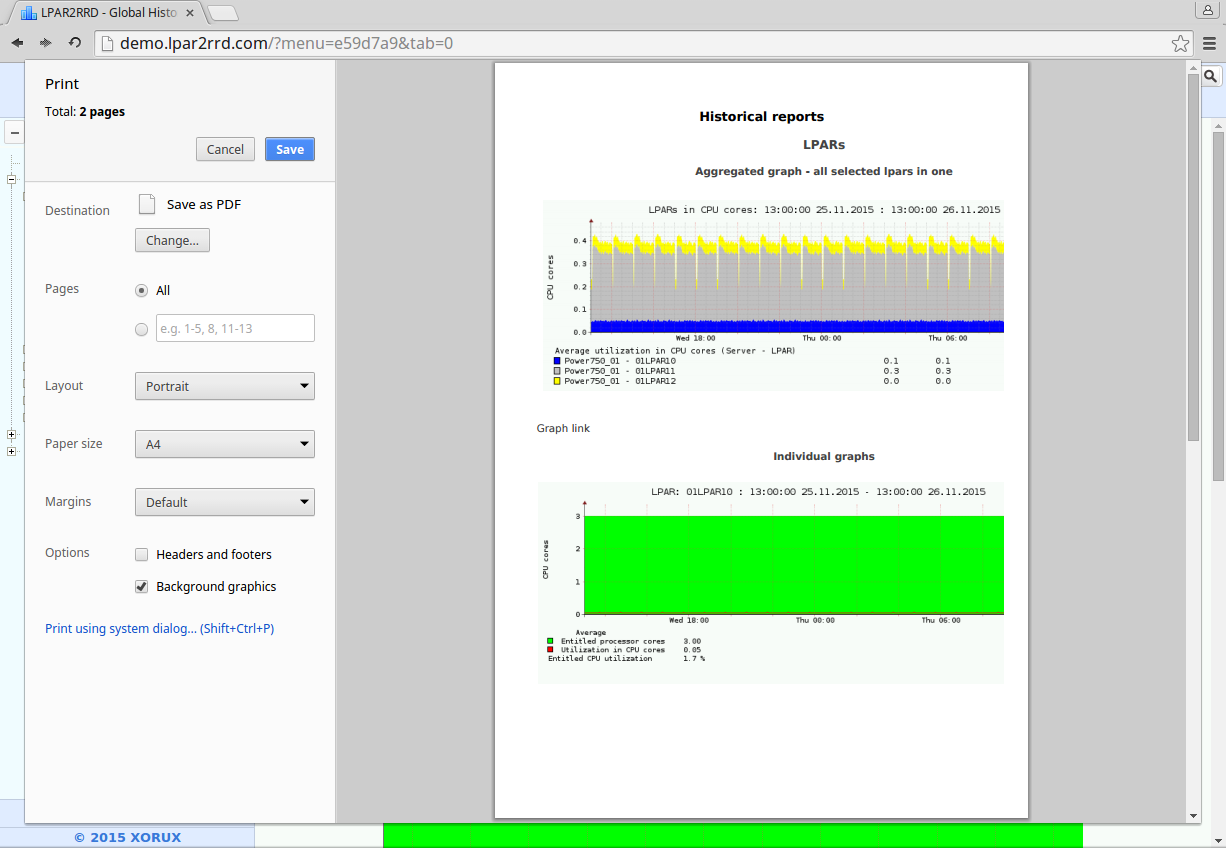 Result
PDF printer
Install a PDF printer as a print device which is able to convert printed data into PDF. There is many of such free programs.